Gruyère Stuffed Mushrooms
The Starving Chef is supported by Hungry People like you. When you make a purchase through an affiliate link on my site, I may earn a little bit of cash on the side (at no extra cost to you) to help keep my kitchen running. Read our disclosures here.
This weekend the Starving Chef went on a road trip. For Labor Day weekend, I went to my hometown of Dayton, Ohio to visit with my family and friends – and of course cook a bunch of food! Not wanting to miss a week of the 52 weeks of cooking challenge, I decided to pack up the food photography studio and take it on the road with me.
I've made stuffed mushrooms before, based off a recipe from my brother-in-law, but this time, I wanted to keep things super simple.
I had my mom round up the finest ingredients she could find, based off a meticulous list of ingredients and recipe links. I was pretty impressed she was able to get (mostly) everything I needed – I only needed to go to the grocery store once while I was back in Beavercreek.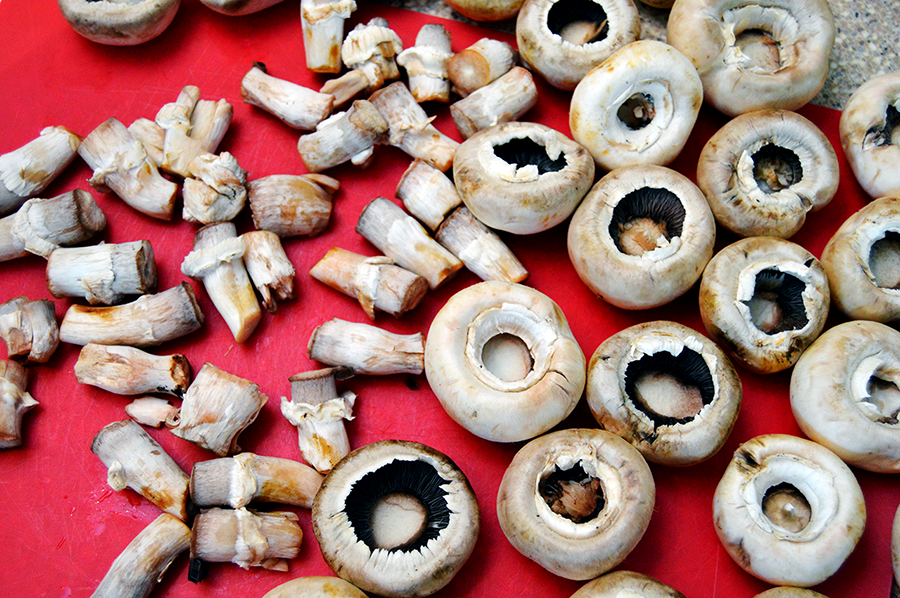 I began by separating the stems from the mushroom caps and set the caps aside. If there are any particularly large caps, larger than a single bite would be, chop them up finely alongside the stems. I think there were two extra large caps in my bunch of mushrooms – about enough for 1/4 of a cup.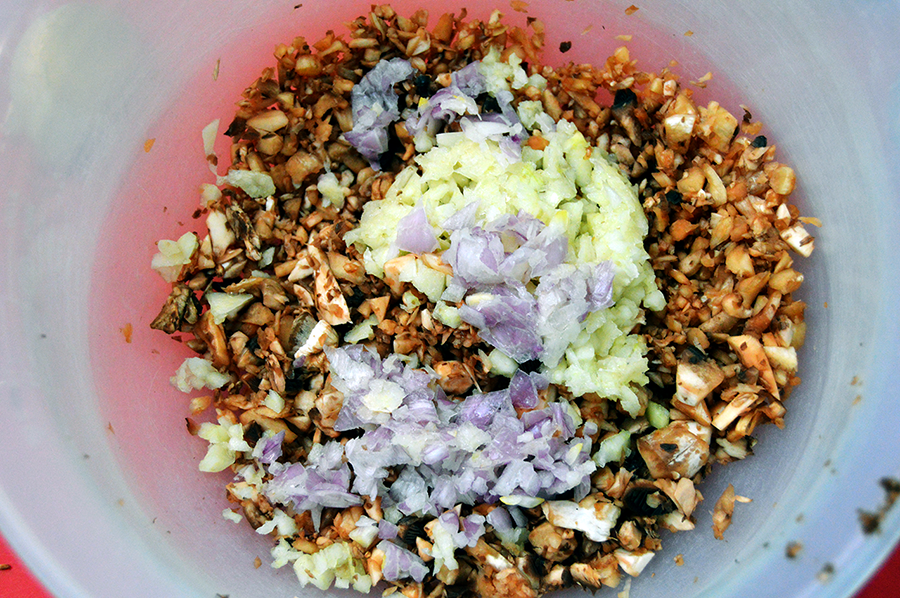 Chop up the rest of the ingredients and toss into a skillet with some olive oil over medium heat.
When the mushrooms, onions, and garlic have softened and are starting to brown, and add a splash of white wine to deglaze the pan, then let the moisture evaporate. Remove to a small bowl and allow to cool for about 20 minutes, or until no longer steaming hot. Add the panko, egg, and cheese, and stir well to combine. Let the mix cool for a little while longer before using your hands to stuff the filling into each mushroom cap cavity.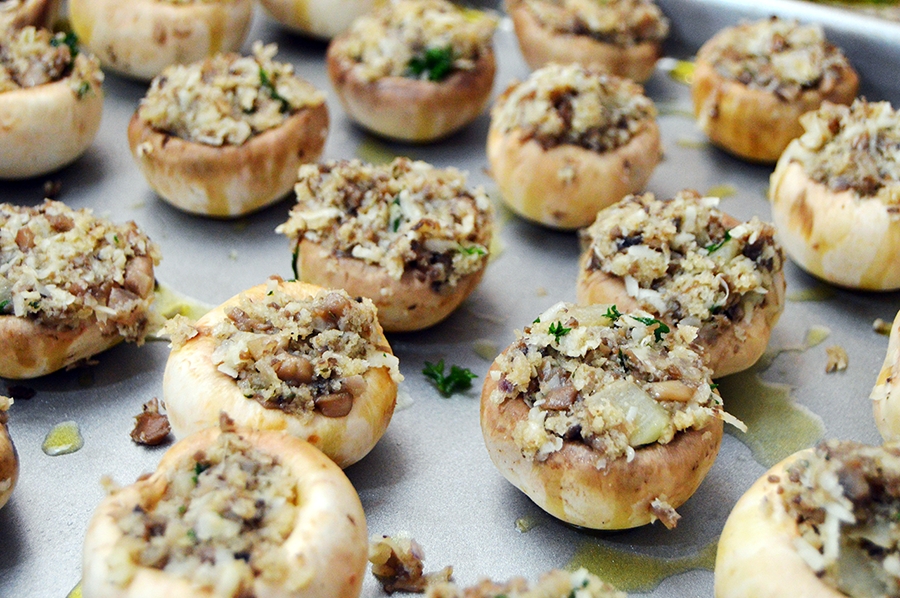 Then just drizzle the caps with some olive oil before popping into the oven on a greased baking sheet for 25 minutes.
My dad helped me pick out the most photogenic mushroom caps for the final shots – and he also ate the ones I deemed as "ugly" before they could make it to the dining table.
These mushrooms were quite the hit with my family, with just enough crunch alongside a cheesy center. We enjoyed leftovers with lunch the next day too.
Bonus Pic: Theo hopes everyone had a relaxing Labor Day weekend!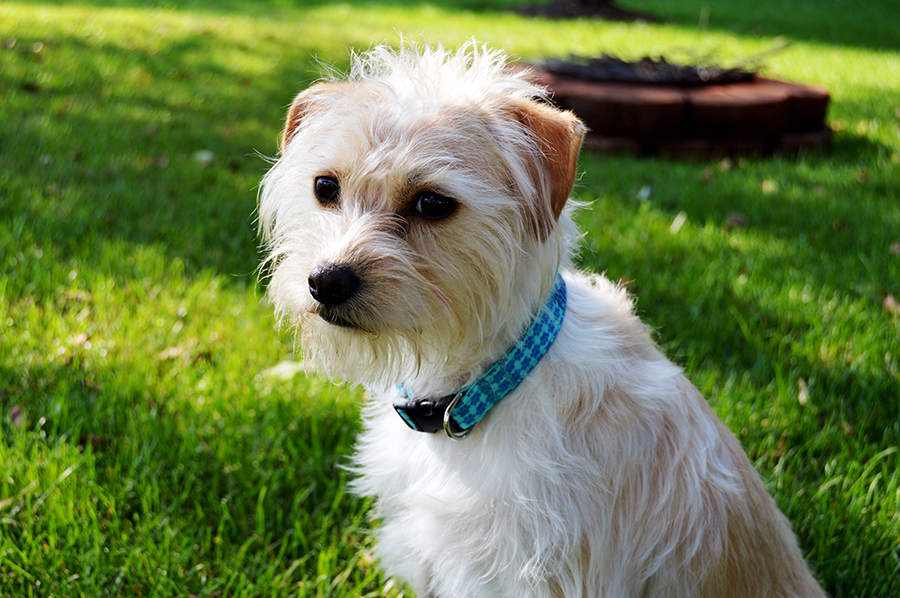 Gruyère Stuffed Mushrooms
A delicious stuffed mushroom recipe that's great for an easy appetizer or side dish!
Ingredients
25

cremini mushrooms

1 ½

cup

gruyere cheese

shredded

1

cup

panko

1

shallot

chopped

⅓

cup

white wine

3

tablespoons

olive oil

for frying & drizzling

salt & pepper

to taste
Instructions
Preheat the oven to 375°F. Wash and dry the mushrooms, then remove the stems. Reserve bite size caps, removing any larger ones (or enough to equal 1/4 cup of chopped mushroom caps). Set the caps aside.

Chop the larger caps along with the stems. Heat 1 tablespoon of olive oil over medium heat and add the chopped mushrooms, shallots, and garlic. Saute the mix until softened and beginning to brown, then add a splash of white wine. Bring to a simmer and let the liquid evaporate.

Remove the filling from the skillet into a large bowl and cool for 20 minutes, or until no longer steaming hot. Add the panko, egg, and Gruyère cheese into the bowl with the mushroom mix, and stir well to combine.

Toss the mushroom caps in 1 tablespoon of olive oil. Stuff each cap with a heaping portion of the filling, taking care to completely fill each mushroom cavity. Grease a baking sheet and arrange the stuffed mushrooms upon it.

Bake the mushrooms for 25 minutes, or until the tops of the mushrooms are golden brown and crispy. Let cool for a few minutes before serving. Enjoy!