Single Serving Mini Lasagna
The Starving Chef is supported by Hungry People like you. When you make a purchase through an affiliate link on my site, I may earn a little bit of cash on the side (at no extra cost to you) to help keep my kitchen running. Read our disclosures here.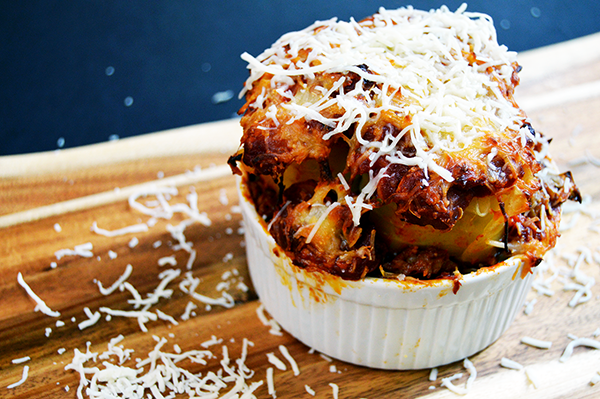 Have you ever had a hankering for lasagna but found yourself all alone and not wanting to be stuck with leftovers for weeks? Fear not, Hungry People! I've got the perfect solution for you: single serving lasagna! It's a fantastic way to satisfy your lasagna cravings without having to cook up a huge batch.
The Story Behind Single Serving Lasagna
So, here's the scoop. My boyfriend unexpectedly had to leave the country for work just a day after we planned our entire week's menu together. Talk about throwing a fork into the mix (pun intended)! But I was determined to stick to the plan and make use of all the fresh ingredients I had just bought, even if I was dining solo.
Usually, when I make lasagna for the two of us, I use a standard 8×8 square pan, which gives us about two servings each. We often save the leftovers for packed lunches during the week. However, this time around, I didn't need a whole lasagna to myself, but I was still seriously craving that cheesy, saucy goodness.
The Brilliant Solution: Ramekins to the Rescue!
After a moment of culinary inspiration, I decided that using ramekins would be the perfect way to make a single serving of lasagna. No need to hassle with cutting up lasagna noodles and layering them within each ramekin (let's be real, I wasn't up for that kind of effort that night). Instead, I came up with a quicker and easier option: rolling the lasagna noodles and arranging them in the center of each ramekin, to be topped with sauce and cheese. Genius, right?
Here's What You'll Need
Lasagna noodles: The main component of the dish, providing the pasta layers for the lasagna.
Sweet sausage and spicy Italian sausage: Add savory flavors and a meaty element to the lasagna filling.
Cottage cheese: Used as an alternative to ricotta, it provides creaminess and texture to the cheese mixture.
Mozzarella cheese: Melts beautifully and adds gooeyness and a cheesy flavor to the lasagna.
Egg: Helps bind the cheese mixture and adds structure.
Tomato sauce: Forms the base of the sauce, adding a rich tomato flavor.
Diced tomatoes: Provide texture and bursts of freshness to the sauce.
Sweet onion: Adds a mild and slightly sweet flavor to the sauce.
Green onion: Offers a fresh, oniony taste and adds a pop of color to the dish.
Garlic: Enhances the overall flavor of the sauce and complements the other ingredients.
Fresh basil: Provides an aromatic, herby note that complements the Italian flavors in the lasagna.
Fresh parsley: Adds freshness and a mild herbal flavor to the dish.
Fresh thyme: Infuses the sauce with earthy and slightly floral undertones.
Olive oil: Used for sautéing the onions, peppers, and garlic, providing flavor and moisture.
Salt and pepper: Seasoning ingredients that enhance the taste of all the components in the lasagna.
Let's Get Cooking!
If you've been following my cooking journey, you already know I have a soft spot for chorizo. I hardly ever buy ground beef anymore and instead opt for chorizo sausage or even bison.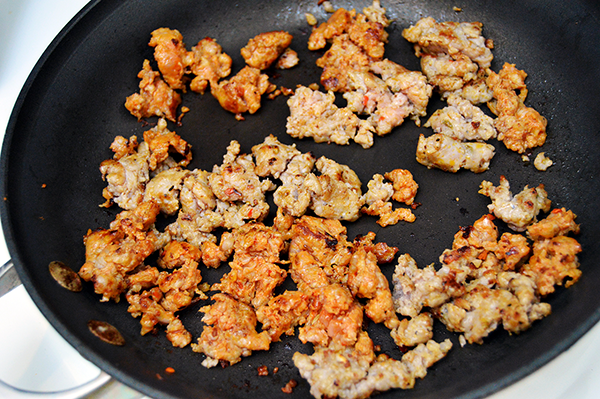 To add a little extra kick, I mixed sweet and hot sausage together because combining sweet and heat is always a winning move in my book.
Next, I whipped up a homemade pasta sauce using fresh veggies straight from my garden. I sautéed onions, peppers, garlic, and fresh tomatoes in some butter for a few minutes before adding tomato sauce and paste. The result? A flavorful, garden-fresh sauce that's simply unbeatable.
While the sauce was simmering away on medium-low heat for about 30 minutes, I moved on to prepare the remaining ingredients.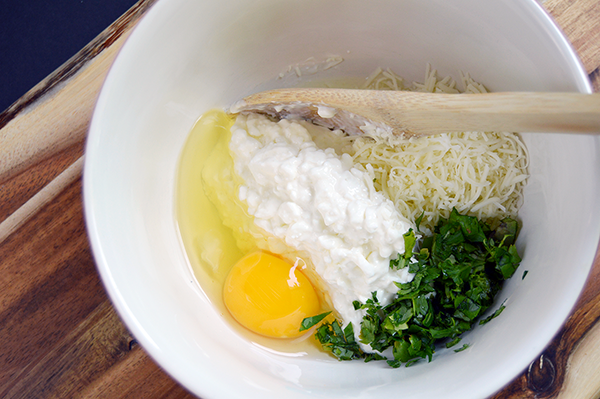 A Cheesy Twist
Now, let's talk about the cheese. I've got a little secret: I used cottage cheese instead of ricotta. I can't be the only one out there who used to avoid lasagna because I found ricotta cheese too rich. There's a fine line when it comes to using ricotta cheese, in my opinion, so I always reach for the cottage cheese instead. It not only offers a more pleasing texture to the blend but is also cheaper than ricotta in my neck of the woods.
The best part? If you didn't tell someone you used cottage cheese instead of ricotta, they likely wouldn't even notice the difference!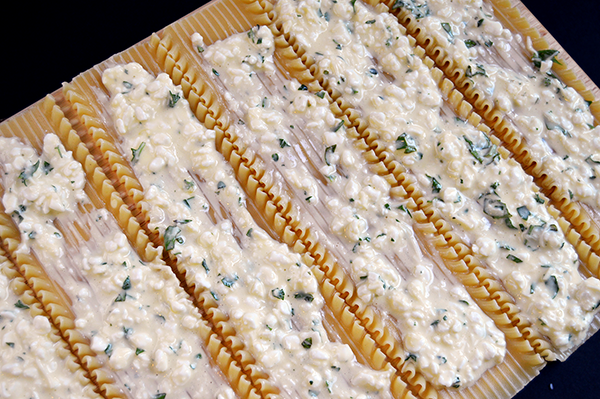 Noodling Around
While your cheese mix chills, it's time to boil the lasagna noodles. To ensure the noodles hold their shape when handled or rolled, make sure they're cooked to a slightly closer-to-al-dente texture. Once cooked, rinse them under cold water to stop the cooking process and make them cool enough to handle when moving them onto a solid surface for spreading the cheese mix.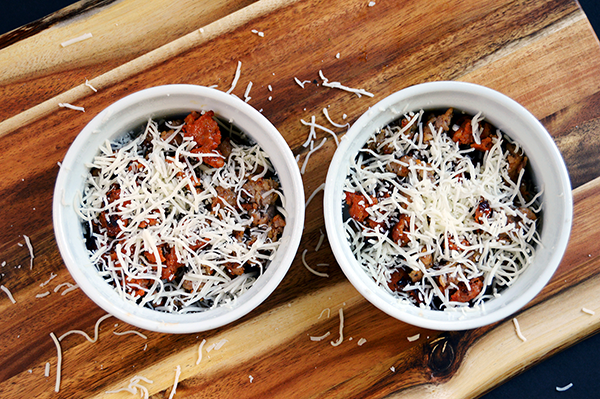 Building Your Single Serving
Now comes the fun part! Grab a ramekin and place a couple of tablespoons of chorizo, sauce, and cheese in the bottom. Take each lasagna noodle, filled with the delightful cheese mix, and roll it up. Stand the rolled noodles on their ends rather than their sides inside the ramekin. I found it easiest to have the ends of each lasagna noodle meet in the center to help keep the noodles rolled and in place.
To ensure the noodles stay upright, add the remaining chorizo around the standing noodles. Pour the rest of the sauce over the top, and generously sprinkle with cheese for that irresistible golden crust.
Baking Time!
Time to bring your single serving lasagna masterpiece to life! Pop the ramekin into the oven and let it bake for approximately 25 minutes, or until the lasagna is heated through and the cheese has melted to perfection. The tantalizing aroma will have your mouth watering in no time!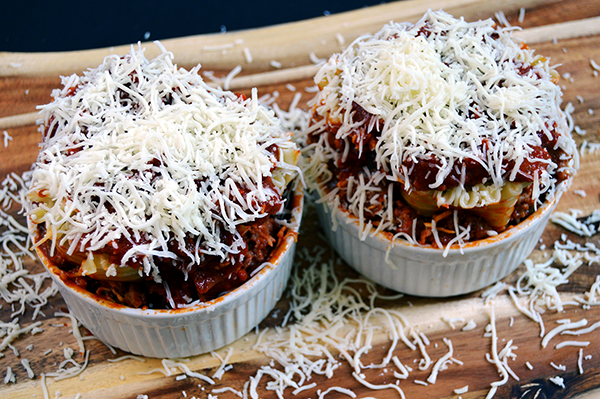 Double the Deliciousness
In the end, I must admit that out of sheer habit, I made a second serving of lasagna for my boyfriend, Nick, even though he's on the other side of the world. So, I ended up enjoying lasagna two nights in a row.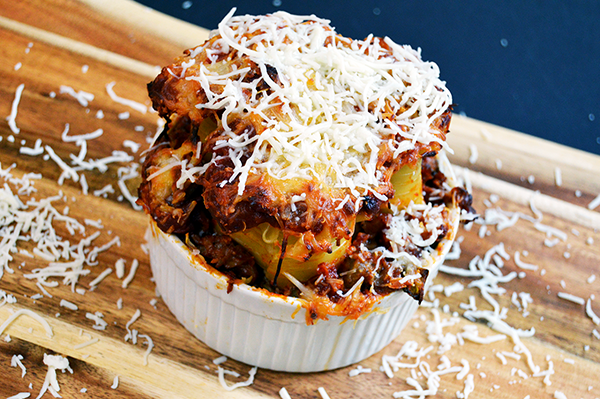 But guess what? It was so incredibly delicious that I didn't mind at all! Sorry, babe, looks like you'll just have to try this recipe on your own when you get back home.
Enjoy your single serving lasagna, Hungry People! It's a scrumptious way to satisfy your lasagna cravings without being left with leftovers for weeks. Stay tuned for more fun, affordable, and mouthwatering recipes to come!
Single Serving Mini Lasagna
Satisfy your lasagna cravings with this easy single serving recipe that features rolled lasagna noodles, savory sausage, homemade tomato sauce, and a creamy cheese filling.
Ingredients
8

oz

sweet sausage

casing removed

8

oz

spicy Italian sausage

casing removed

1

cup

cottage cheese

½

cup

mozzarella cheese

+ more for topping

1

egg

8

oz

tomato sauce

¼

cup

diced tomatoes

¼

cup

sweet onion

¼

cup

green onion

chopped

3

teaspoons

garlic

minced

1

tablespoon

fresh basil

chopped

1

tablespoon

fresh parsley

chopped

1

tablespoon

fresh thyme

stems removed

1

tablespoon

olive oil
salt & pepper

to taste
Instructions
Preheat the oven to 375°F (190°C). In a skillet over medium heat, brown the sweet sausage and spicy Italian sausage until no longer pink. Remove from the pan and set aside.

In the same pan, without cleaning, add the olive oil, diced sweet onion, and chopped green onion. Sauté until tender, then add the minced garlic and diced tomatoes. Cook until softened.

Add the tomato sauce and stir well. Let the sauce simmer on low heat, stirring occasionally.

Meanwhile, boil the lasagna noodles according to the instructions on the box. Drain and set aside.

In a mixing bowl, combine the cottage cheese, ½ cup of mozzarella cheese, egg, chopped basil, chopped parsley, and thyme leaves. Stir until well combined.

Take each lasagna noodle and spread a layer of the cheese mixture along its length.

Spread a single layer of the cooked sweet sausage and spicy Italian sausage, followed by a layer of the tomato sauce on the bottom of a ramekin or small oven-safe bowl.

Roll up each lasagna noodle with the cheese mixture inside and place the rolled noodles upright in the ramekin, with the ends facing inward. This will help them stay in place.

Fill any gaps around the lasagna rolls with the remaining cooked sausage, and then pour the rest of the tomato sauce over the top.

Sprinkle additional mozzarella cheese on top of the lasagna.

Bake in the preheated oven for 20-25 minutes, or until heated through and the cheese on top has melted and turned golden.

Remove from the oven and let cool for 10 minutes before serving. Be cautious, as the ramekins will be very hot. Enjoy!